Wales Voted Yes!
Following the "yes" vote in the Welsh Assembly referendum the focus must now move to delivery.
21 out of 22 local authority areas voted "yes", Monmouthshire being the only county to vote no - and even that was by the narrowest of margins. The final result saw 517,132 vote Yes, and 297,380 say No - a 63.5% to 36.5% winning margin.
I have left the pre 3rd March information in the right hand column to remind people why they should have voted "yes" on 3rd March.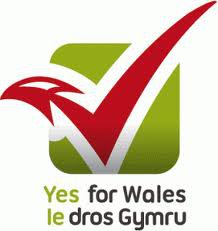 Why should I say Yes?
On 3rd March 2011, the people of Wales will have the opportunity to vote on the future of our National Assembly.
At a time when all the talk is about cuts to public services, it's good to know that our Assembly is protecting services for the most vulnerable, like free bus travel for pensioners and disabled people, and free milk for the under 7s in schools.
Times are tough and Wales needs a strong champion.
So what is the vote next March about?
Over the last decade the Assembly has gradually grown in stature and confidence. But the system for making laws that affect Wales is slow and complicated.
Our Assembly needs permission from London before it can make laws in certain areas. That can take a long time.
It has taken three years for the Assembly to get powers transferred from Westminster to reform the organ donation system to give a lifeline to people waiting for a new kidney. Even though the policy is widely supported in Wales the Assembly is still waiting for permission to act.
Time and money is being wasted jumping through needless hoops.
A Yes vote will help take Wales forward by speeding up the system of decision making to allow Assembly Members to get on with the job.
If there's a No vote Wales' voice will be weakened.
A Yes vote will give Wales a stronger voice.
(Taken from Yes for Wales campaign website www.yesforwales.com)