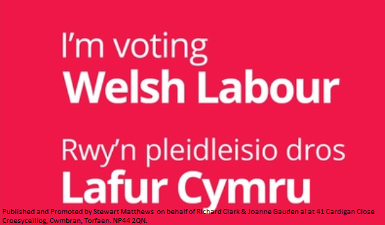 | | |
| --- | --- |
| Richard Clark | X |
| Joanne Gauden | X |
| | |
| | |
You have two votes please use both to elect your Welsh Labour Candidates.
Council election day Thursday 4th May 2017 - Remember :-
Check your polling card for your polling station

You don't need your polling card to vote.

Polls are open 7am - 10pm.

If you've got a postal vote, but haven't sent it back yet, you can take it to any polling station before 10pm.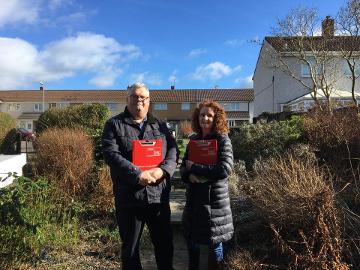 CROESYCEILIOG NORTH CANDIDATES CHOSEN
Labour have chosen their candidates to stand for the Croesyceiliog North Ward in May's County Borough election. Councillor Richard Clark was reselected for the seat and is joined by Jo Gauden. Richard said "I am honoured to be reselected by Labour to stand for Croesyceiliog North and look forward to working with Jo to retain the two seats for Labour.
Richard has been the Councillor for this seat since 2004. Joanne has grown up in and still lives in Croesyceiliog having been involved with numerous community organisations and worked in local schools, Jo hopes to bring these experiences with her to represent the Ward.
CROESYCEILIOG & LLANYRAFON LABOUR SELECT CANDIDATES FOR 3 WARDS
Local Members have selected their candidates to stand in the Croesyceiliog North and South wards and the new Llanyrafon West ward. Pictured from left to right Glyn Carron, candidate for Llanyrafon West, Jo Gauden and Richard Clark candidates for the two Croesyceiliog North seats and Veronica Crick for Croesyceiliog South. The election will be on Thursday 4th May 2017.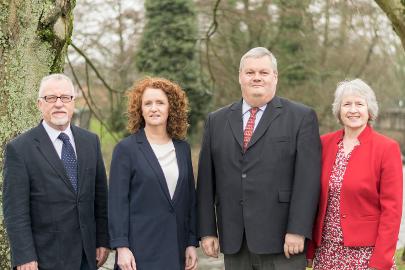 WARD STREET SURGERY
Richard holds a ward surgery with his fellow Croesyceiliog Council's on 2nd Saturday of the Month at Community Council Offices. Not everyone has the time to attend these or wants to contact Councillors directly so since January Croesyceiliog labour have been out holding street surgeries. These have been at various times of the day and different days. This gives you the opportunity to raise any local issues with your local representatives. If we miss you you should find a card through your door with Jo and Richard's contact details on (also listed below) please contact them if you have any local issues.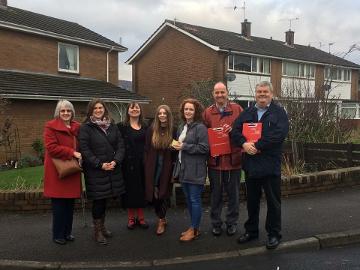 Joanne Gauden
07540250200
joannegauden@gmail.com
@croesynorthlabourcandidates
Richard Clark
07894685947
richardg.clark@btinternet.com
Copyright © 2017 Richard G. Clark, All rights reserved
Promoted by and on behalf of Croesyceiliog & Llanyrafon Branch Labour Party at 29 Glaslyn Court, Croesyceiliog, Cwmbran, Torfaen, NP44 2JF
.
Hosted by Richard Giles Clark
www.richardgclark.com
richardg.clark@btinternet.com